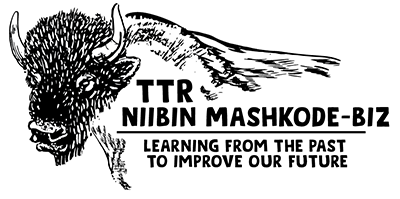 For centuries, the bison supplied the essentials of life as these animals provided the plains Indigenous peoples with food, shelter, tools, and fuel for thousands of years. Over time our people regarded the bison as a special gift from the Great Spirit.  After the arrival of Europeans, control of and access to the bison herds was a constant source of tension and antagonism amongst Indigenous people. This ultimately ended with the near extinction of bison, thus resulting in subsequent ongoing recovery efforts.
TTR would like to be part of an action plan to bring the bison back to the prairies; thus, a few years ago, The Niibin Mashkode-biz project was identified to bring back the bison to our people. 
As part of an action plan to bring the bison back to the prairies; TTR continues with the capacity-building efforts, and as a result of funding available through the SARA Consultation, Cooperation, and Accommodation Project of the Centre for Indigenous Environmental Resources, TTR successfully completed two information sections at the Community Hall on October 28th, 2022; and on February 3rd, 2023.
During these meetings, we had the opportunity to share information with community members and youth about the bison's history, its traditional uses, and the current state of bison in Canada.
Based on the feedback received and the results of the surveys, we believe this initiative was a complete success because besides learning more about the history of Bison, the effort made to recover it, and the SARA process, we have confirmed the desire of bringing the bison back to the prairies. The information sections were instrumental to build awareness and confirm this decision.