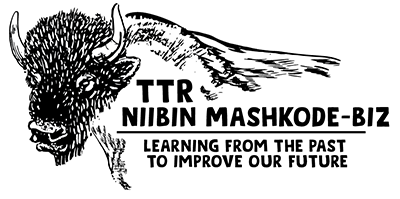 The Niibin Mashkode-biz project was identified to bring back the bison to our people.
The project has several phases, and at this time Phase was completed.
During this first phase, TTR identified the best and most suitable area of the reserve to develop a
bison ranch, based on studies of soil, vegetation, cover, water and topographical suitability that was conducted by a professional engineering/environmental firm.
Also, during this phase I, a business and marketing plan were developed to determine the
economic viability of creating a bison business.
In addition to conducting studies – TTR members were able to register and participate in sustainable ranching as well as training in the production, management, and marketing of bison. The training was comprised of 6 theoretical units (Bison History, Traditional Uses of Bison, The Bison Industry Today, Raising Bison, Commercialization of Bison, Case Studies) and 1 practical unit conducted at the Ebb and Flow First Nation Game Ranch located near Ste Rose, Manitoba.
In addition to this, a special unit was developed to share the main findings of the Environmental Screening, Preliminary Site Plans, and Class D Construction Cost Estimate for the Bison Herd that was developed by Samson Engineering and Ray Salmon in December 2020.
Please send an email to dclarke@kokopelli.ca if you would like to receive additional information about this program, as well as copies of the reports and training materials.
Miigwech!
TTR Bison Initiative